Open up your home, enjoy welcomed space & create flow to the great outdoors.
Our award winning Opening Roofs create an outdoor room & a new favourite gathering spot for you, your family and your friends.
Choose from 8 different styles of Louvre roof  depending on your wind zone and your style.
Blades are motorised to open up to 180 degrees, letting you stop the blades at any point along this path - so you get to set and control the conditions. When the roof is closed enjoy a cosy haven and a functional outdoor room.
Discover our new release Retractable Opening Roof which takes it one step further than our opening roofs by being able to retract its louvre blades black letting you enjoy the sky above when you want. At the touch of a button bring the louvres back overhead for an operable opening/closing roof. How clever is that.
Made of aluminium they're durable too.
Features
Choose from 8 different Louvretec roof for your home and location

Blades rotate up to 180 degrees so you can set your scene

Louvretec Opening Roofs are available in a large range of powdercoat or anodised colours. Click here to see!

Available anodised

Available in other 'special finishes' including a choice of timber wood grains for your aluminium opening roof & even a concrete-look finish for your aluiminium opening roof.

Selection of Opening Roof styles cater for high wind zones

Available motorised or hand adjustable

Award-winning drive system moves the Louvre roof blades seamlessly

Installed by an authorised Louvretec Dealerships/personnel

Adds balance to the look of a home or building

Compatible with your home or building's wifi system
Automation & Engineering
Louvretec Opening Roofs are all fully engineered & feature the upgraded and award winning Spiral Pivot System.
Blades rotate up to 180 degrees & all moving parts including the motor are hidden out of sight
further enhancing the clean lines of your louvred roof system.

D J Hewitt Builders Ltd own home
My home
"We love our Louvertec Roof. It gives me the best of both worlds. Shade or Sun and keeps us dry...& it looks Architectural as well. We have been using Louvretec systems for years in lots of our high end builds". Daryl Hewitt D J Hewitt Builders Ltd Christchurch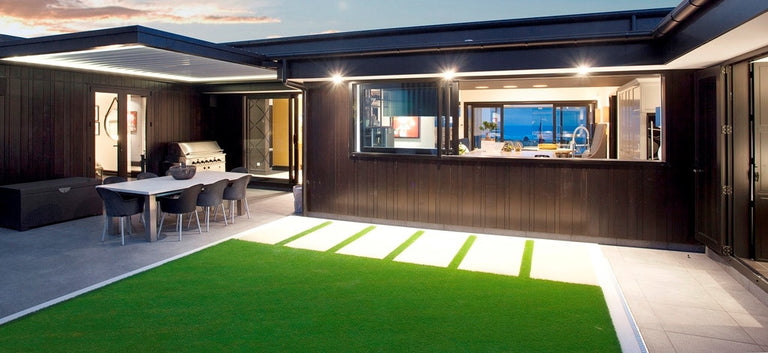 D J Hewitt Builders Ltd own home
My home
"We love our Louvertec Roof. It gives me the best of both worlds. Shade or Sun and keeps us dry...& it looks Architectural as well. We have been using Louvretec systems for years in lots of our high end builds". Daryl Hewitt D J Hewitt Builders Ltd Christchurch