Louvretec's Coastal Series Shutters redefine outdoor living with durable aluminium outdoor shutters that are customised for your property. Lovretec's Shutters are not just window coverings; they are a testament to exceptional design and engineering in a range of powdercoated covers. Crafted with precision, Coastal Series Shutters offer flawlessly smooth operation, making them a perfect addition to your home with unparalleled protection from adverse weather and added security for your home.
Elevate Your Outdoor Living with Louvretec Aluminium Shutters
Every home is distinct. Our aluminium louvred shutters are meticulously designed to withstand the toughest coastal conditions whilst retaining their faultless aesthetic appearance. Louvretec provides the flexibility to choose from sliding, bi-folding and hinged shutter systems. Complement your space with style and practicality by choosing Louvretec for the ultimate combination of aesthetics and performance as we redefine how you experience the outdoors in New Zealand.
Automation & Engineering
Select among Sliding, Bifolding, or Hinged Shutter louvre window systems. Typically, Sliding louvre shutters are designed to fit externally on the structure, deck, or within a pre-constructed opening, and as such, they only incorporate top and bottom tracks and guides. Wondering whether to opt for Top Hung or Bottom Rolling? Well, Top Hung Shutters are securely held within the upper track, so only a minimal bottom guide is necessary.
Conversely, Bottom Rolling Shutters do not need structural securing at the top, with their entire weight being supported by the bottom track, making them easy to operate. Louvre windows fillings can be manually controlled utilizing the innovative KISS Pivot system which comes with double drive arms that seamlessly align against the frame when the louvres are shut. For an in-depth understanding, feel free to check out our Shutters technical page.
Features
Choose from either Sliding, Bifolding or Hinged Door options

Louvre infill options available including hand operable, bracket or end fixed outdoor louvers

Compatible with a range of Louvretec sun louvres

Coastal Series Shutters by Louvretec are designed to operate in the harshest of conditions

Manufactured from commercial grade powder-coated or anodised aluminium louvre windows

Componentry has completed extensive corrosion resistant testing and are constructed using 300 series stainless steel

Coastal Series Shutters offers a premium range of shutters for a wide variety of applications

St Clair Residence
Manor Park
"My favourite room in the house" Mandy St Cllair. Howick
Watch the video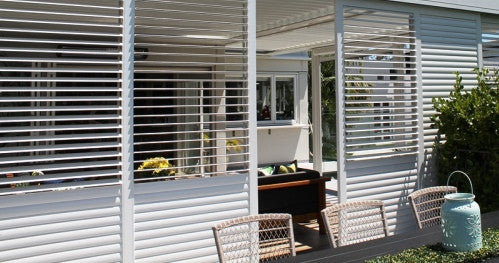 St Clair Residence
Manor Park
"My favourite room in the house" Mandy St Cllair. Howick
Watch the video